Everyone knows that when government sticks its fingers into anything, it always end up in a mess.
16 comments
5 people Like this
1 subscriber
Last activity this year
28604 page views 4658 mobile 9267 search bots


Socratic Method is one of the oldest and most respected forms of productive debate. There are many unproductive methods. All of which should be avoided. Socratic method is a very old and respected means to quickly and definitively resolve difficult issues by adhering to rules of conversation which are carefully designed to keep the discussion on track and drive it toward rapid and unreserved conclusion. Conclusion is reached when after carefully selecting questions designed to spotlight an affirmation's error, no one involved in the conversation is any longer willing to dispute the rationality of the affirmation.
Wikipedia on Socratic Method
SocraticMethod.net
In this way, conclusion is forced upon those who remain in disagreement, but have no rational reason for their disagreement. One remaining in disagreement is forced to admit "I still disagree, but fail to provide a reason for my disagreement which others perceive as rational." The irrationality of his or her position becomes obvious to those involved in the conversation.
For this reason Socratic Method is very unpopular with politicians who often desire to remain uncommitted on some issues.
How do I comment in Socratic Method if I disagree?
Do not pose an alternate position or attempt to show that there is a better way to handle the issue. This is the error most make in debate. Nothing ever ends up resolved because both sides continue supporting their respective and opposing views and neither view is refuted. Neither party has any reason to concede. Neither party finds it intellectually embarrassing to continue supporting their original position.
First, make sure you disagree. An argument is not won with fancy words, but by discovering the winning side before choosing your position. Is your position winnable? If not, accept it and change your mind, otherwise Socratic Method will reveal your irrationality to others. Once you've answered that, list the assumptions upon which the affirmed statement rests, and which if shown to be false, make the affirmed statement's error obvious to others.
Restate that assumption in language and terminology which make the affirmation's reliance upon the assumption obvious and ask those affirming if they agree with the assumption.
If the assumption is specious, wait to point out the assumption's flaw in your second question after those affirming answer their agreement with the assumption. Post "Considering that you agree with that particular assumption, do you also agree with its obviously erroneous implication, thus.....?
If you have difficulty finding an erroneous assumption or an error of conclusion implied by assumptions made in the affirmation, double check that you still disagree. You may find, to your surprise that you agreed with the statement all along. You just didn't think about it carefully enough at first.
---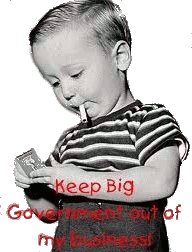 Feb 26, 2011

Contents
Introduction
Incompetence Inherent to Government
Forces Of Nature Work On Government
Government Self Preservation

16 Paragraphs
1,165 Words
480 Different words
5.6 Average letters per word


---
No private company could possibly stay in business if they were unable to process their customers better than the long lines at any bureau of motor vehicles. Centralized systems of government screw up everything they do; and most of us make excuses for them. "They have to make every one happy... They have to be fair..." No private industry could stay in business if they didn't keep enough people happy. So what's up with government?

Neither corruption, lack of proficiency, political pandering, nor stupidity has anything to do with government incompetence. It is a force of nature. No matter how intelligent or well meaning legislators are, their aggregate consensus is steered toward incompetence by natural selective forces. Read further to understand how these forces drive centralized governments inexorably toward incompetence.

Any system which adopts both incompetence and self preservation is dangerous and requires constant attention until it can be abolished completely and replaced with an efficacious system. Centralized systems of government must be abolished and wholly replaced by distributed systems of government.

All Institutions Of Centralized Government Are Constrained By Robust Evolutionary Selective Pressures Which Favor Incompetence.

Every year thousands of businesses go out of business. In the ever changing business environment sometimes more and sometimes fewer advantages are available. Businesses who fail, fail because they prove unable to effectively differentiate between advantageous practices and disadvantageous practices. Successful businesses select advantageous practices which persuade customer's voluntary patronage, furnishing financial support to the business. This provision of voluntary financial support acts as a mechanism of natural selection favoring only those institutions which successfully differentiate between advantageous and disadvantageous practices.

Removing this selective pressure from any institution, such as is the case for institutions coercing financial support from patrons by threat of incarceration for not paying "taxes," also removes the selective pressure which favors the survival of only those institutions possessing real world competence and does not induce the failure of institutions which do not possess real world competence. Real world competence is defined here as those practices which actually prove efficacious and which the majority of people find valuable.

Institutions which are not subject to such beneficial selective pressures, such as all institutions of government, accrue bad ideas and good ideas at their naturally occurring rate rather than at the rate induced by such a beneficial selective pressure which strongly favors good ideas. Since there are many bad ideas for every one good idea, the only protection a government agency has against adopting disadvantageous practices are the mental faculties of its leadership. As evidenced in the number of failed businesses each year, even the best business persons often fail because the mental faculties of even well educated people prove nearly useless in predicting real world competence.

For each advantageous practice adopted by any government institution, many more disadvantageous practices also accrue. Perhaps Thomas Paine already knew this when he said "Government, even in its best state, is but a necessary evil; in its worst state, an intolerable one." The answer lies not in eliminating taxes, but in replacing our current centralized systm of government, whole and entire, with a system of distributed government. A novel means of electing leadership could forestall the inevitable. Our current method of election selects leaders who are good showmen, not good leaders.

Forces Of Nature Work On Government

Centralized government was first introduced more than five thousand years ago by the legendary figures Narmer, Eridug and Fu Xi, independently in their respective corners of the world. About 2,500 years ago Pericles introduced democratic oversight of centralized government. That was the only substantive improvement to centralized government ever devised. Since Pericles, no further improvements to centralized government have ever been introduced nor even examined, though methods of enforcement have improved dramatically, culminating in the nuclear bomb, machine guns and more recently swat teams and extensive use of prisons.

About forty years ago a group of computer geeks was asked to devise a system of regulation which could maintain robust and uninterrupted communication despite severe disruptions to the communication infrastructure. They defined the task more generally as "a system of regulation whereby an unenumerated but finite number of independent units, each of which maintains its own sense of valuation for limited resources and offers resources of undefined character, can utilize the various resources each unit makes available for their better mutual interest."

The computer geeks found immediately that all centralized systems of regulation fail miserably when confronted with more than a few million constituents. They designed ARPNET, which of course is our Internet today, around a distributed system of regulation where there is no central anything. No legislative body, yet new protocols are constantly generated automatically and efficacious ones are duplicated while defective ones are dismissed as a matter of the system's function not the decision of a cloistered group.

Centralized systems of government can effectively manage constituencies of less than a few hundred thousand, but when faced with constituencies of more than a few million, the logical structures required to maintain a centralized government fold in on themselves leading to unbounded trends and loss of equilibrium. The unbounded trends are only halted by the demand of the popular electorate. This is not a stable interaction and inevitably leads to violent, or non violent revolution or to transition to dictatorship.

For Egypt, centralized government fostered growth for two thousand years, six hundred years for Rome, who knows how long for Western industrialized civilization (beginning about the time of the Great White Fleet.) As population grows, the unbounded trends of centralized governments come against popular demands at a greater and more vigorous rate leading to one of the three inevitabilities faster and faster with each generation. Each passing generation of mankind will experience this failure faster because of greater population. After this generation the world is simply so populous that centralized systems of government have become obsolete.

There is no getting around it. Only a shift to a distributed system of government can relieve the increasing pressure which a growing population places on the inadequacies of centralized governments.

Government's Means of Self Preservation

Any individual, organism or organization of members into an institution which does not adopt some mechanism for self preservation does not endure. This is true no matter the size or complexity. If a nation's government does not employ some mechanism of self preservation, it shall surely perish.

Such mechanisms of self preservation are not the products of the individuals staffing and who are responsible for maintaining the government. No government official goes to work every morning saying to himself "I must preserve the fabric of government." Instead each official works to accomplish the goals and tasks assigned to him by his superiors. Who in turn accomplish their goals and tasks as determined by a collective congress, each individual of whom is subject to various motivations, incentives and diverse goals.

In this way the machinery of government turns out products of government. In exactly the same way the machinery of centralized systems of government turn out incompetent products through no fault of the individual members staffing the government. They also turn out mechanisms of self preservation which are not the product of any intended activity of any individual member. There are historical examples of governments which have not adopted mechanisms of self preservation. Of course, there are not many because systems which do not act to preserve themselves fail quickly.

Any system which adopts both incompetence and self preservation is dangerous and requires constant critical scrutiny until it can be abolished completely and replaced with an efficacious system.

---
Some may disagree. If you disagree, but are unable to identify the rational reason for your disagreement, you are dishonest with yourself. You really have no rational disagreement. You only feel irrational prejudges; and you should set aside your disagreement and embrace the truth. However, if you do have a rational disagreement, and believe it can stand up to the rational scrutiny of Socratic method, post it here. Show me that I am wrong by asking questions which demonstrate my error.

Socratic method is the oldest and most respected means of driving a discussion to rapid and definitive conclusion, despite the fact that most have never experienced a discussion where people leave believing differently than they entered the discussion. If this describes you, you can read up on Socratic method.

I write this as a challenge. I believe this to be true. If you disagree, but can not defend your reasons, you should abandon your disagreement.

Share this discussion with your friends